Love
We Love to smile. We love our team.
Wir sind ein bunter, fröhlicher Haufen ohne Anspruch auf Vollkommenheit und lieben unser Team. Zu unserer DNA gehören ein herzlicher Umgang miteinander, mit unseren Kunden und Partnern sowie aktives Zuhören, die Bereitschaft, voneinander zu lernen und sich gegenseitig zu motivieren.
Sell
We sell happiness. We sell with passion.
Wir verkaufen mit Freude, gehen begeistert die Extrameile für unsere Kunden und für unser Team, denken dabei positiv, betrachten Fehler als Lerngutscheine und verlassen gelegentlich unsere Komfortzone, um über uns hinauszuwachsen. 
Rock 'n' Roll
We rock & entertain. We rock our personal growth. Wir finden, dass Spaß im Team und Verkauf die Arbeit schöner macht, geben unsere Begeisterung so weiter, dass aus Kunden Intersport Arlberg Fans werden und hören nicht damit auf, uns persönlich und beruflich weiterzuentwickeln.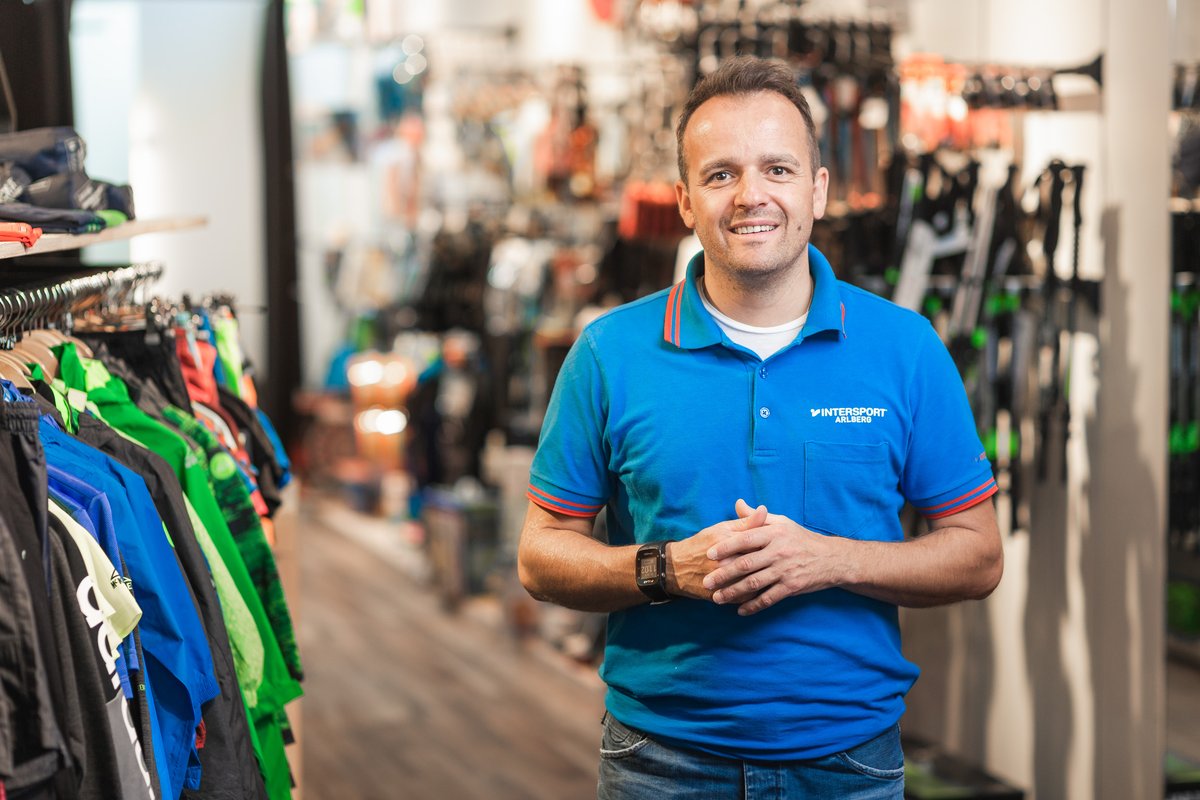 Experience and Committment
Simon Matt is the best proof that Intersport Arlberg's employees are satisified and stay with the company for a long time. From the town of Imst, he started with us when he was 18 and has been actively contributing to our success for 22 years now. He uses his wealth of experience to manage a shop, lead the employees, and help the customers. He enjoys being able to work at one of the top skiing locations world-wide
Whether its bicycling or hiking, Simon is in his element. Simon can also often be found in the fitness studio because being in top physical for is important for him. But he also enjoys spending free time outdoors in nature - on the Venet mountain or in Hoch-Imst. And he can also run. He is particularly proud of his result in the Montafon Arlberg Marathon where he ran 33 kilometers in 4 hours and 9 minutes.
And what does he like most about Intersport Arlberg? That everyone is friendly, ready to lend a helping hand, and fair. And that it opens you up to many different perspectives. Simon values the being able to work with people and the variety. He also enjoys the promotional events. When it comes to the working climate, he praises the team-spirit, the familiarity among colleagues, and that everyone is motivated and has fun. In addition, the store manager likes the image that the beautiful location has and that celebrities drop in every once in a while.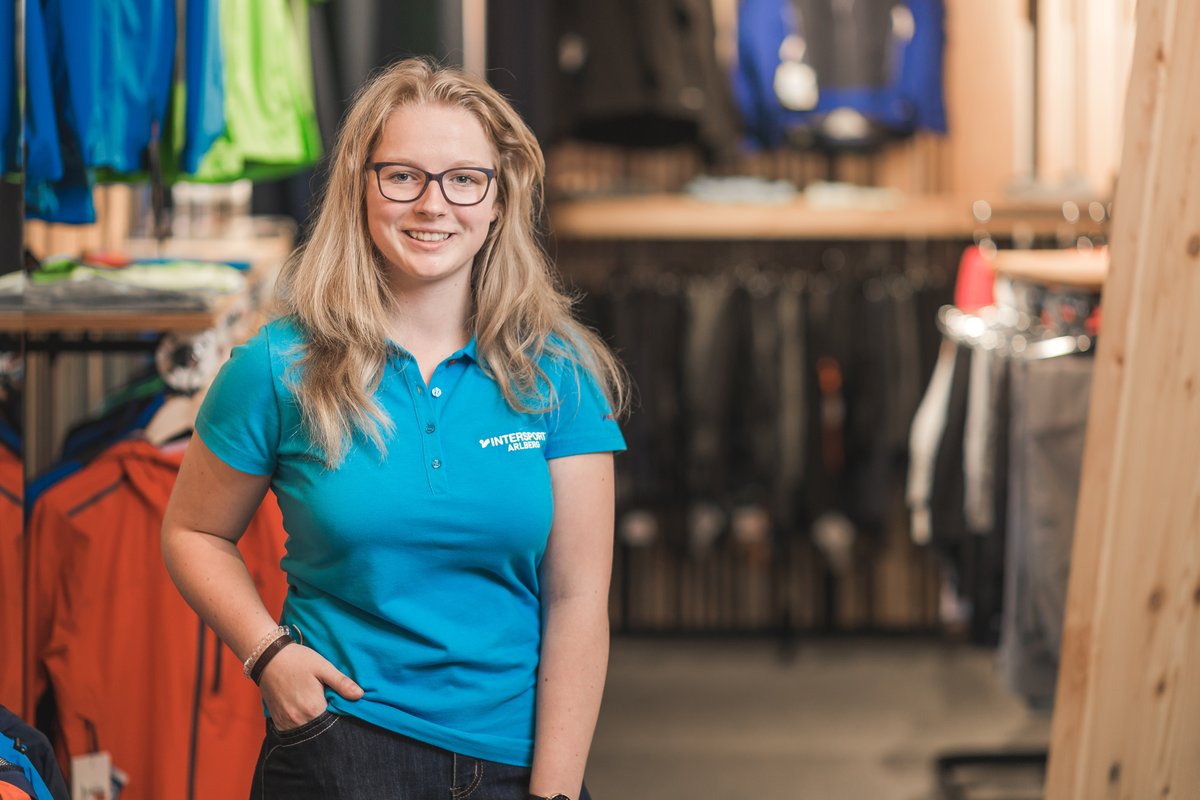 Next generation
Michelle Falch was on skis for the first time when she was four years old. Today the 16 year old nature lover and outdoorswoman isn't just crazy about skiing. She also loves swimming, bouldering, biking and - football. Nobody should think that those sports are just for men.
We're happy that Michelle has been doing her apprenticeship with us for the past year. She sells sports equipment, keeps the showroom stocked and looking good, and takes care of merchandising. Because she enjoys working with people, she is always helping our customers to find the right euipment or outfit.
What does she like most about the working environment? That it's a lot of fun. She also thinks its nice to be able to work where other people go for holiday. We think so too.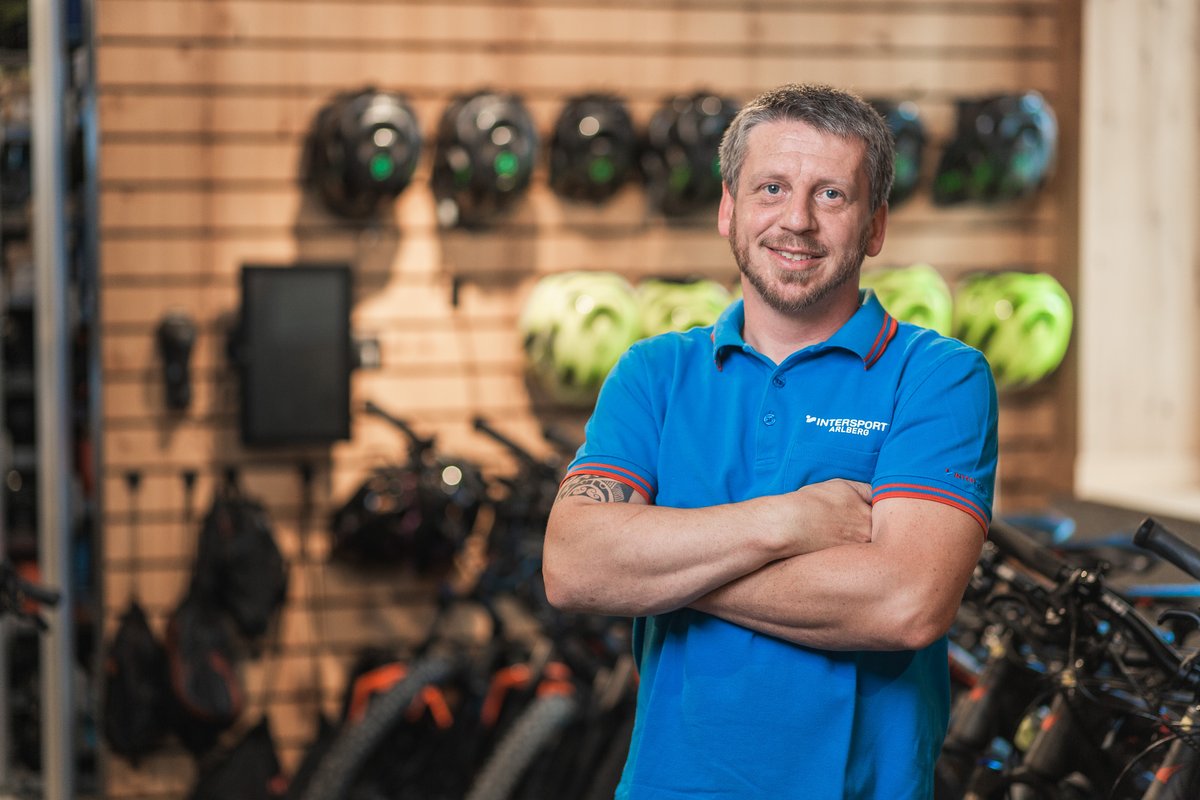 Master of Rentals
Michael Wolf has been on board for four years at Intersport Arlberg as the Deputy Shop Manager. The 37 year old man from the Arlberg village of Flirsch makes sure that everything runs like clockwork in the rentals department. He likes the variety and challenges of his work.
If you're looking for him after the workday ends, you have to go into the mountains. In his free time, he is a passionate skier, back country skier and hiker, mountain biker, and rock climber. His athletic goal is to climb Kilimanjaro. Many want to climb it, but few are able to make it to the top. Knowing Michael, he'll be one of the ones to reach the top.
He values Intersport's social engagement, fairness, and the professional development opportunities that it gives him. Beyond that, he likes the openness and open-mindedness of the team. In a comfortable working climate, everything's just more fun.
8 Gründe, um für Intersport Arlberg zu arbeiten
Du arbeitest da,
wo andere Urlaub machen :)
Du entwickelst dich zur besten Version deiner selbst
80 years of experience
in the Arlberg region
Team Power
We work in one of the most beautiful ski areas in the world - the Arlberg. From St. Anton to St. Christoph, Stuben, and Zürs all the way to Lech there is a whole world of athletic possibilities waiting to be explored. It's no wonder that we're a happy bunch of sports enthusiasts. Years of experience, a wide-ranging training and development program, and, of courses, enjoyment on the job allow us to go the extra distance.
Our team sees itself as coaches and makes every effort to give you solid advice and guidance. That's true whether you're renting or buying from us. We know our assortment as well as we know the mountains that surround us and we're always happy to help.