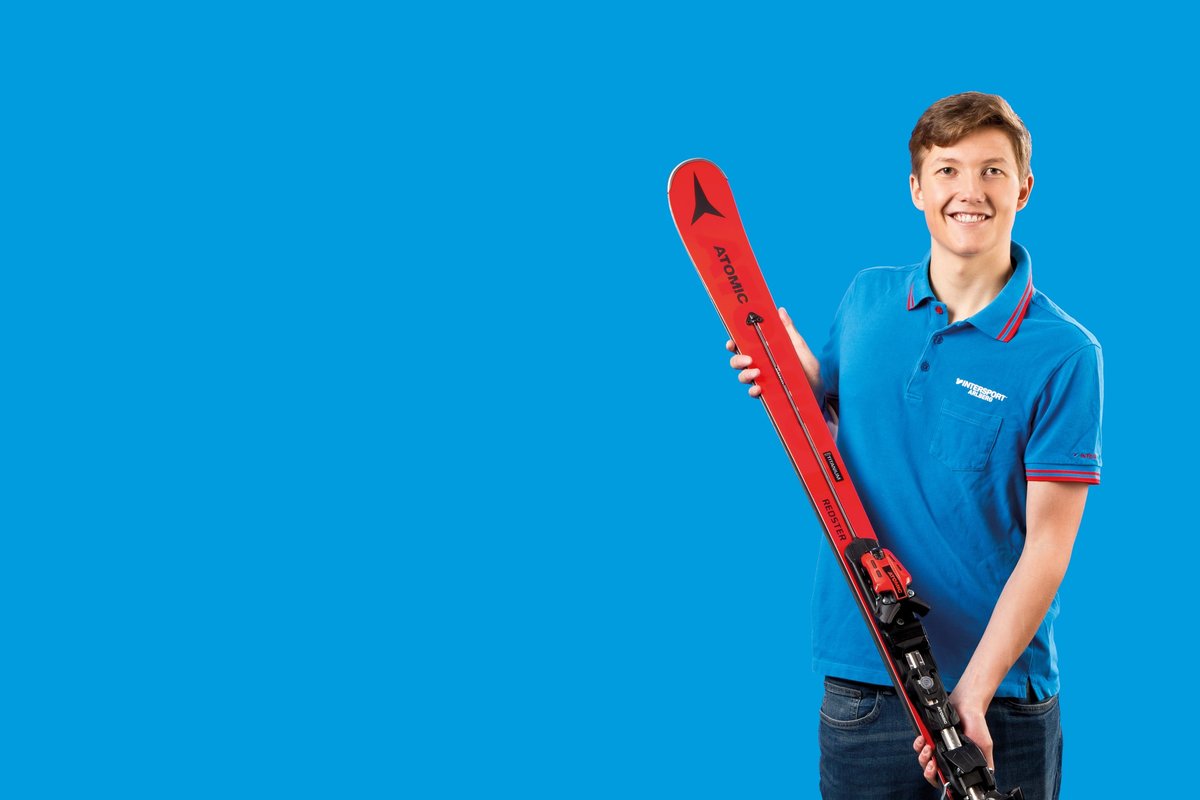 Sport is our lives
25 years young, an ambitious athlete and a strong team player. That's our Shop Director, Paul Pangratz, who, along with his team, energetically represents Intersport Arlberg in Lech.
It's easy to see that taking good care of his customers and employees is rewarding for him. "What I like about Intersport Arlberg is that the sense of team spirit and solidarity is real. Here your colleagues are your friends and you also have the privilege of meeting amazing customers from all over the world," explains the shop manager excitedly.
In his free time, Paul keeps a watchful eye our for fresh powder. Because wherever there are fresh tracks to be had, that's where the free rider and backcountry skier goes. Paul's current athletic goal is, as with every year, to successfully participate in the White Thrill, the legendary cult ski race in St. Anton am Arlberg. We're keeping our fingers crossed!
What opportunities do we have for you?
Workshops & Trainings
Naturworkshop
Die Familie ist wieder beinander! Hier ein paar Eindrücke. Unsere Mitarbeiter mussten sich in Sachen Überwindung, Geschicklichkeit, Teamwork und vielen weiteren Eigenschaften beweisen und alle haben die Aufgaben großartig gemeistert - Als Team. :) Teamwork makes the dream work!
INFO: Die Covid Vorschriften wurden strengstens eingehalten.
We were there: Power Days in Munich with Keynote Speaker, Jürgen Höller
44 Intersport Arlberg employees took part in a weekend full of ENERGY at the Jürgen Höller Power Days in Munich. Together with about 5,000 other people in Munich's Olympic Hall, we received much input and information for our work. The amazing atmosphere and pure energy was contagious and we received plenty of advice and tipos from Jürgen and Mike, the trainers of the Jürgen Höller Academy. At the conclusion of the event, Dieter Bohlen provided some insights from his life. We returned motivated and impressed to our workplaces at Intersport Arlberg. As a result, all of our employees can profit from the know-how and energy that the Jürgen Höller Academy provides – and the same goes for you, our customers. Why? Because we're ready to help you achieve even more power for your outdoor winter sports adventures!
Boot Camp Mayrhofen
Highland Games in Arlberg
Each year at our annual Outdoors Workshop our team prepares for the coming winter season. This year the action packed event's focal point was on the traditional Scottish   competition with the one of kind Arlberg mountain landscape as a backdrop. Markus Haslinger coordinated the activities for roughly 60 participants. Donning the appropriate outfits consisting of Scottish Kilts and plaid hats, we dove into the adventure where healthy doses of agility, strength, and, above all, team spirit were on full display.
The teams representing each of our shops faced off at 8 different stations. We rolled barrels, tossed tree trunks, and tested our strength with tug-of-war.  A bagpipe player provided the fitting background music. But the competition was not the main point of the event. The primary purpose of the challenge is to allow the best team to grow together in anticipation of the coming winter season. Long-time and new employees alike quickly discovered one another's complementary strengths in order to overcome the various challenges during a day of fun and action. Owing to our solidarity and family-oriented organizational culture, we're able to offer our customers unbeatable service. We all enjoy what we do, which means that everyone profits. And of course we couldn't let such an eventful day end without jovial finish - so we enjoyed the evening together with a Scottish themed party at Anthony's.
Put a smile on all faces
More than 50 employees were on the starting line for this year's outdoor workshop. With a fun and lively afternoon, we got ourselves geared up for the winter season. Participants were required put their agility, endurance, courage on display at three stations, but the most important attributes were team spirit and teamwork. We competed against one another in sack races, for example, or we rappelled from dizzying heights from the arl.rock. tower. There was no lack of fun. And that's good. Fun is what we want. For our team and for you as the customer. For us because we do our work in a supportive atmosphere and with genuine joy. And for you as the customer because that's how you'll be able to enjoy our engaging service.
Our customer motto, "Put a smile on your face," includes the idea that we don't just want to satisfy you, rather we want to inspire you with empathy, respect, and appreciation. We're always trying to think of new ways to make a smile appear on your face. If you give us a review of "Great service with a smile," we know that we're on the right path. On the eventful day of our outdoor work shop we certainly grew closer to each other and afterwards we enjoyed an Asian evening in the Skiing Buddha restaurant.
Lead yourself
Rodelalm (Tobaggan Trail)
Skilled craftmanship and team spirit were required at the outdoor workshop on the Rodelalm. After a short welcome from workshop leaders, Markus Haslinger, Matthias Schröter and Ute Sorgenfreifrom Hutner Trainings AG,the teams got down to business and started building their soapboxes. 
In randomly selected  teams that threw together people from different shops and departments, it was all about developing the ability to work together and to coordinate with one another. The goal was not to build the best, prettiest, or fastest 'race pickle.' Rather it was about using one's own individual abilities to help the group works towards a common goal - similar to what our staff does everyday at work.
After the presentation of the finished soapbox sleds, they were, of course, tested in a "flood light race" before the eventful day was celebrated with a tasty dinner at the Rodelalm. The perfect way to get the new winter season off to a good start.
Managment Training on the Rodelalm (Training)
80 years of experience in the Arlberg region
You might also be interested in this